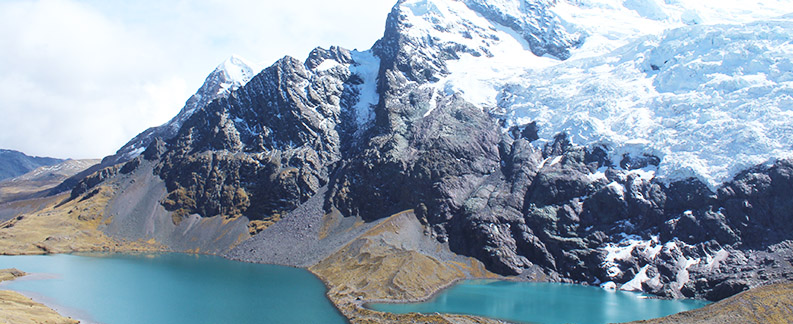 Duracion: 6 Days
Ubicacion: Ausangate
Book Now
Ausangate Overview
Ausangate snowfall is one of the most enigmatic mountains in Peru located in the east of the city of Cusco, offers us one of the outstanding and spectacular trek that gives us the opportunity to enjoy the extraordinary beauty of the Vilcanota mountain range, one of the three mountain ranges of Peru. Walking through the vicinity of Ausangate is an indescribable adventure, in which it is impossible not to be amazed at the beauty of sunsets and the eternal snows.
The myths surrounding this enigmatic mountain are unique and intertwine legends, stories, and unique myths of the area's folklore, as well as wildlife full of alpacas, llamas, vizcachas, condors and glacial lagoons that make a unique destination, which make of the trek to the Ausangate an exciting place to have a connection with the Andean culture.
This route enables us to learn and experiment in local geography, climate, people, flora and fauna from a large sector of the Peruvian mountains, where they appreciate an authentic nature, beautiful landscapes, snowcapped, precious gaps, and like the people own the place and its daily activities that make this trip a memorable experience in addition, this area gives us extraordinary opportunities to practice the sport of mountaineering, especially for tourists who want to feel and experience the adrenaline.
ITINERARY
Day 1 CUSCO – OCONGATE – TINQUI – UPIS:
We will travel by bus from Cusco to the town of Urcos. Then we will pass through Ocongate, Tinqui, Quinsapucyu and Huarmisaya before arriving in Upis, where we will camp in front of the majestic snowcapped Ausangate. Observe the habits of high-Andean villagers in this area and also enjoy the presence of large numbers of alpacas.
Meals Included: (L)(D)
Day 2 UPIS – PUKACOCHA LAKE:
After breakfast, we will head toward the Arapa pass, located at an elevation of 4, 958 meters, and then descend toward the gaps Pucacocha with the names of Hatun Pucacocha, Viracocha and Huchuy Pucacocha, where we'll have magnificent scenery and also be able to appreciate different species of andean birds and we will camp there that night.
Meals Included: (B)(L)(D)
Day 3 PUKACOCHA LAKE – UCHUY FINAYA:
This day will be able to appreciate the unfreezing of Mount Ausangate. Ascend to step Alcatani (4 650m.) and continue the journey toward declining Ausangatecocha lagoon, and then climb toward the Palomani Pass (5 050m.) where we will have a view of particular beauty, to then descend to our destination, the town of Uchuy Finaya, where we will make camp.
Meals Included: (B)(L)(D)
Day 4 UCHUY FINAYA – JAMPA – QOMERQOCHA:
Our journey continues along the valley of Jampa, where we'll see Andean villagers with typical dress of the region; as well as alpacas, sheep, llamas, ascend to our last step (4 600m.), to observe the beautiful lagoon Ticllacocha, the pampa Pachaspata, and at night we'll camp on the banks of the lagoon Qomercocha.
Meals Included: (B)(L)(D)
Day 5 QOMERQOCHA – PACCHANTA – TINKI:
We will descend through the valley to reach the village of Pacchanta where we will take a well-deserved break and those who wish to can bath in the hot springs. We will spend the last night of the trek in the typical Andean Village of Tinki.
Meals Included: (B)(L)(D)
Day 6 TINKI – CUSCO:
We will arrive back in Cusco around 12:00 pm.
Meals Included: (B)(L)
TOUR INFORMATION
Pre briefing before the trek.
Pick up from your hotel in the morning of trek departure by private transportation from: Cusco – Tinki / Tinki – Cusco.
English/Spanish speaking Professional Guide.
Chef and support staff. Meals as described in itinerary: (B) breakfast (A) lunch (C) dinner, our chef will prepare traditional Peruvian food with selected quality food, typical of our region and great care in preparation. If you have any special preference, let us to know in advance.
Tents Eureka Timberline 4 Seasons.
Camping Equipment: Dining tent, kitchen tent, tables and chairs, utensils.
Biodegradable bathroom tent.
Personal inflatable Mattress Thermarest.
Personal Duffle.
Horsemen who will lead the horses and movement of equipment and all stuff.
Horses and/or mules to carry the camping equipment, kitchen equipment and dining, backpacks, sleeping bags and mattresses.
An emergency horse, which can be ridden if you are feeling ill or if feels a little slower.
First aid kit and oxygen.

Breakfast in the first day.
Dinner last day.
Sleeping bags.
Tips for horsemen, cook and guide.
An additional horse if you need to carry more stuff.

A light day backpack with personal items and toiletries.
Clothing molting (warm fleece clothes)
Personal Medication.
Hiking boots.
Rain jacket or rain poncho.
Sleeping bag – 20° C. Trekking poles (optional).
Wool cap and gloves.
Sunscreen, sunhat & sunglasses.
Water bottles (in general we can fill up with boiled water once a day, so you should carry as much capacity you need for the day.
Energy bars.
Filmadora and / or camera with with lots of spare film or memory.
Headlamp or flashlight and extra batteries.