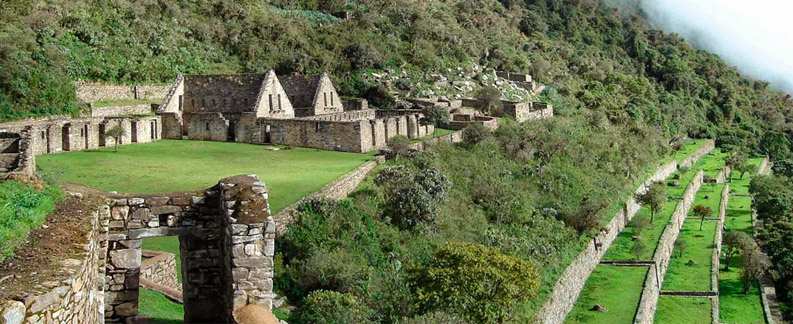 Duracion: 5 Days
Ubicacion: Choquequirao
Book Now
Choquequirao is another alternative Inca trek that means "Cradle of Gold" Choquequirao is the mysterious and stunning Inca City located in the beautiful landscape of the Vilcanota Mountain Range above the Apurimac River Canyon, which was covered by forest vegetation for many years. According to historians, Choquekirao was the dwelling place of the last Inca rebels from Vilcabamba. Choquequirao trek offers a wonderful hike passing through several ecosystems and replete with beautiful views of the snow-covered peaks of the Vilcabamba Mountain Range. We will descend into the deep Apurimac River Canyon and then climb up through the vegetation until we reach the Choquequirao site.
ITINERARY
DAY 1: CUSCO – CACHORA – CHIQUISCA:
We will pick you up from your hotel very early and then go by bus to the village of Cachora. During the trip, we will pass through the small towns of Izcuchaca, Zurite, and Limatambo until we reach Tarawasi, where we will head down and spend the night in Cachora. We will begin our adventure inca trek in direction of the Apurimac River Canyon. Along the way, we will observe agricultural activities and, with a little luck, the flight of some condors. Then, to descend into the depths of the Apurimac Canyon, which is one of the deepest and most beautiful canyons in the world, we will continue on to Capuyichaqoc (2,800 meters above sea level). Our first camp and the Choquekirao are there, along our route, we will see changes in climate and vegetation. Then we will camp in Chiquisca (1,900 meters above sea level). Meals Included: (L)(D)
DAY 2: CHIQUISCA –CHOQUEQUIRAO:
On this day, we will cross the bridge over the Apurimac River and begin a challenging ascent to the Santa Rosa sector (2,290 meters above sea level). The vegetation becomes abundant and the weather is hot. Here you can see fruit trees and rural forms of sugar cane production as we continue on until we reach the Marampata sector (2,850 meters above sea level), where we will have lunch. Then we will head toward the Choquequirao Archaeological Site, reaching the Raqyapata sector (camp). We will spend the rest of the afternoon resting and enjoying the beautiful landscape. Meals Included: (B)(L)(D)
DAY 3: CHOQUEQUIRAO
After breakfast, we will visit the lower parts of Choquekirao, where we can see more than 50 agricultural terraces covered in vegetation. At noon, we will return to camp for lunch and in the afternoon we will visit the upper part, observing more terraces, as well as an irrigation canal that comes from higher up on the mountain and the most important Incan sites. Hopefully we will be able to see the majestic flight of the condors before returning to our camp. Meals Included: (B)(L)(D)
DAY 4: CHOQUEQUIRAO – CHIQUISCA:
On this morning, we will prepare to descend again into the Apurimac Canyon and then climb up to the Chiquisca camp, where we will be able to take a well-deserved rest and enjoy the place. Meals Included: (B)(L)(D)
DAY 5: CHIQUISCA – CACHORA – CUSCO:
On this day we will wake up earlier than on the other days to continue on in the direction of the Cachora village. Along the way, we will enjoy lovely views of snow-capped Padreyoc and the Vilcabamba Mountain Range, as well as the impressive Apurimac Canyon. We will arrive at Cachora at dusk, after an estimated hiking time of 5-6 hours. Then we will use transportation to return to the city of Cusco(Cuzco). Meals Included: (B)(L)
TOUR INFORMATION
Pre briefing before the trek.
Pick up from your hotel in the morning of trek departure by private transportation from: Cusco – Cachora / Cachora to Cusco.
English/Spanish speaking Professional Guide.
Entrance fee to Choquequirao.
Chef and support staff. Meals as described in itinerary: (B) breakfast (A) lunch (C) dinner, our chef will prepare traditional Peruvian food with selected quality food, typical of our region and great care in preparation. If you have any special preference, let us to know in advance.
Tents Eureka Timberline 4 Seasons. Equipment: Dining tent, kitchen tent, tables and chairs, utensils.
Biodegradable bathroom tent.
Personal inflatable Mattress Thermarest.
Personal Duffle.
Horsemen who will lead the horses and movement of equipment and all stuff.
Horses and/or mules to carry the camping equipment, kitchen equipment and dining, backpacks, sleeping bags and mattresses.
An emergency horse, which can be ridden if you are feeling ill or if feels a little slower.
First aid kit and oxygen.
Breakfast in the first day and dinner last day.
Sleeping bags.
Tips for horsemen, cook and guide.
An additional horse if you need to carry more stuff
A light day backpack with personal items and toiletries.
Clothing molting (suitable clothing like warm and fleece clothes for night and light clothes for day, because the weather conditions change along the day).
Personal Medication.
Hiking boots.
Rain jacket or rain poncho.
Sleeping bag.
Trekking poles (optional).
Sunscreen, sunhat & sunglasses.
Deep Insect Repellent.
Water bottles (in general we can fill up with boiled water once a day, so you should carry as much capacity you need for the day.
Energy bars.
Extra money to buy groceries, souvenirs, etc.
Filmadora and / or camera with lots of spare film or memory.
Headlamp or flashlight and extra batteries.