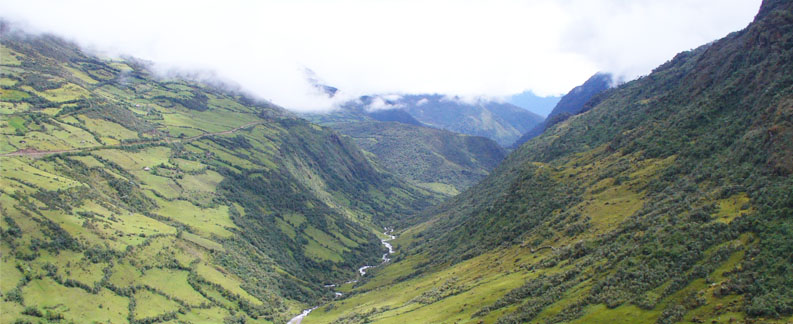 Duracion: 8 Days
Ubicacion: Espiritupampa, Machupicchu, Vilcabamba Valley
Book Now
For nearly four decades after the Spanish conquest, the survivors of the Inca Empire maintained an independent state in the Cordillera Vilcabamba Valley located to the north of Cusco (Cuzco). The first two attempts to conquer the area were frustrated by a combination of snowy mountain peaks, dense forests and broad rivers. A third effort in 1572, undertaken by an enormous military force, was successful and the region was abandoned. The first attempts to find these lost mountain settlements began in 1834, attracting explorers from around the world and the search still continues today. Our expedition will follow in the footsteps of famous explorers like Hiram Bingham (credited with discovering the ruins of Machu Picchu (Machu Pichu) in 1911 and Gene Savoy who finally located the Vilcabamba palace in 1964. Our trip in Espiritu Pampa will be unforgettable, full of striking natural scenery and Inca ruins (Inca) still half-covered by rain forest.
This trek is a ones of alternative trek to Inca Trail to Machu Picchu or Inka Trail to Machu Pichu.
ITINERARY
Day 1 CUSCO – CHAULLAY – HUANCACALLE:
You will be picked up at your hotel and travel by private bus or van to Huancacalle, passing through Ollantaytambo, the Málaga Pass (4200 meters), and entering the Huyro Valley. From Chaullay, we will travel on to Huancacalle where we will have dinner and camp.
Meals Included: (L)(D)
Day 2 HUANCACALLE – VITCUS – NUSTA HISP'ANAN – QOLLPAQ'ASA:
We will begin hiking toward the archeological site of Vitcos (Rosaspata). From this hilltop location we will be able to see both Pucyura and the glacier-capped mountain Pumasillo. Later, we will visit Nusta Hisp'anan (Yurac Rumi) and enjoy the beautiful scenery. In the afternoon we will travel to Qollpaq'asa to camp and have dinner.
Meals Included: (B)(L)(D)
Day 3 QOLLPAQ'ASA – UTUTO:
 Today we will be descending along the Consevidayoc River. Today we hike 12 km. We pass Maukachaka area and then continue our walk along the banks of the Pampaconas River and descending toward Ututo where we will camp and have a chance to do some fishing.
Meals Included: (B)(L)(D)
Day 4 UTUTO – VISTA ALEGRE:
We will start the day traveling downhill and within an hour we'll enter the semi-tropical forest and notice that the temperature is becoming warmer. During our descent we'll enjoy views of the Pampacona River and later we'll have lunch along its banks. We'll continue our hike in the afternoon until we reach Vista Alegre where we will camp.
Meals Included: (B)(L)(D)
Day 5 VISTA ALEGRE – CONCEBIDAYOC:
After breakfast, we will enter the warm Vilcabamba Valley and eventually arrive at Cruz Q'asa, an excellent place to observe the area's flora and fauna including the cock of the rock. We will travel on to Tunkimayu and finally arrive in Concebidayoc.
Meals Included: (B)(L)(D)
Day 6 CONCEBIDAYOC – ESPIRITU PAMPA – CHONTABAMBA:
We will head west, toward the Pampaconas River Gorge, which will take us to archeological group of Espíritu Pampa, a natural vista point. From Espíritu Pampa, we will be able to see terraces and Rumichaca, the famous Inca stone bridge. After enjoying the view we will continue on to Chontabamba to camp.
Meals Included: (B)(L)(D)
Day 7 CHONTABAMBA – CHIWANKIRI:
We will spend the last day of our trek in the hot and humid Espíritu Pampa Valley, making our camp in Chiwankiri.
Meals Included: (B)(L)(D)
Day 8 CHIWANKIRI – KITENI – CUSCO:
Our vehicle will transport us from Chiwankiri to Cusco (Cuzco), passing through Kiteni, Amparaes, and Calca. We will arrive in Cusco (Cuzco) at approximately 8:00 p.m.
Meals Included: (B)(L)
TOUR INFORMATION
The climate along the route is variable; temperatures are cold at the higher altitudes (average -5° C to -7° C), warm in the valleys (average 16 ° C to 34° C) and temperate at intermediate elevations (average 10° C to 13 ° C). There are two distinct seasons in the region, the rainy season from November to April and the dry season from May to October.
Pre briefing before the trek.
Pick up from your hotel in the morning of trek departure by private transportation from: Cusco to Huancacalle and Chiwankiri to Cusco.
English/Spanish speaking Professional Guide.
Entrance fee to Choquequirao.
Chef and support staff. Meals as described in itinerary: (B) breakfast (A) lunch (C) dinner, our chef will prepare traditional Peruvian food with selected quality food, typical of our region and great care in preparation.
If you have any special preference, let us to know in advance.
Tents Eureka Timberline 4 Seasons. Equipment: Dining tent, kitchen tent, tables and chairs, utensils.
Biodegradable bathroom tent.
Personal inflatable Mattress Thermarest.
Personal Duffle.
Horsemen who will lead the horses and movement of equipment and all stuff.
Horses and/or mules to carry the camping equipment, kitchen equipment and dining, backpacks, sleeping bags and mattresses.
An emergency horse, which can be ridden if you are feeling ill or if feels a little slower.
First aid kit and oxygen.

Breakfast in the first day and dinner last day.
Sleeping bags.
Tips for horsemen, cook and guide.
An additional horse if you need to carry more stuff

A light day backpack with personal items and toiletries.
Clothing molting (suitable clothing like warm and fleece clothes for night and light clothes for day, because the weather conditions change along the day).
Personal Medication.
Hiking boots.
Rain jacket or rain poncho.
Sleeping bag. Trekking poles (optional).
Sunscreen, sunhat & sunglasses.
Deep Insect Repellent.
Water bottles (in general we can fill up with boiled water once a day, so you should carry as much capacity you need for the day.
Energy bars.
Extra money to buy groceries, souvenirs, etc.
Filmadora and / or camera with lots of spare film or memory.
Headlamp or flashlight and extra batteries.