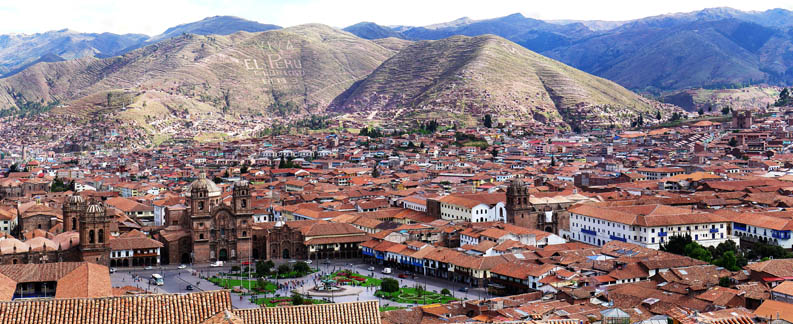 Duracion: 1 Day
Ubicacion: Cusco
Book Now
OVERVIEW
Our city has a particular charm, whose streets are accompanied by history where we can find a fusion of cultures, that's why we recommend the City Tour in Cusco.
Visit the city of Cusco is a unique adventure, which gives us an enormous opportunity to know more about a city, birthplace of emperors, teachers, artists, heroes, etc.
The City of Cusco Capital of the Inca Empire, is located at 3 400 masl (11,000 feet). Visiting the main square one can appreciate two large colonial-style churches built on Incan foundations, as we turn our gaze 360 ​​degrees we can appreciate the colonial houses with beautiful stone arches, if we headed to the upper part of the city one meets the imposing temple of Sacsayhuaman unique for its megalithic dimension, and other small archaeological sites like Qenqo, Pukapucara, Tambomachay, that will give us an introduction to Inca history.
Being able to visit the city of Cusco, give us a great opportunity to appreciate a city full of pre-Inca, colonial, republican, and contemporary history nestled in the Andes of Peru, is simply a place where one has the experience of enriching oneself culturally, apart from enjoying the warmth and hospitality of its people.
TOUR INFORMATION
This tour is the perfect introduction to Cusco, and start in the principal Inca Temple of "Qoricancha" where we can discover an exquisite architectural feats of the ancient settlements of the incas, then we will visit The Cathedral, ubicated in the northeast side of the Plaza de Armas is the main attraction, is a marvel of the religious art possessing many paintings from the Cusqueña School. Tambomachay is an Inca ceremonial enclosure with a beautiful fountains Inca, you can see the Inca architecture combined with beautiful fountains of the great Inca hydraulic engineering.
Qenqo is a beautiful complex of religious use carved from a single block of stone temple this amazing place means 'zigzag' because it is covered with zigzagging channels. Sacsayhuaman is a huge and impressive megalithic constructions, built with a religious purpose, the city of Cusco was set out in the form of a puma whose head was the hill of Sacsayhuaman; here is celebrated the Inti Raymi and from which we get a view of the city and the great Mountain of Ausangate.
Professional English speaking guide.Collection from and to your hotel.
Private Transportation.
Snacks and Water.
Boleto Turístico (BTG)
Entry fees to Qoricancha and The Catedral.