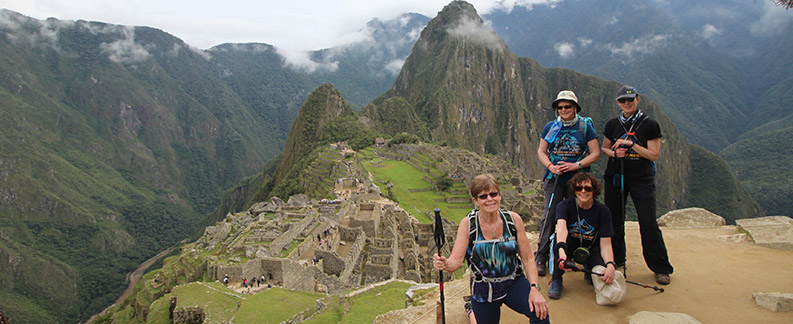 Duracion: 4 Days
Ubicacion: Inca Trail, MachuPicchu
Book Now
OVERVIEW
The Inca Trail, considered one of the most extraordinary and unmissable treks in Peru, along valleys and mountains the impressive Inca road shows us the majestic natural and cultural landscape; for 4 days our guide will teach us about the Inca culture and history of Peru.
The famous trail to the citadel of Machupicchu is unique, the 42km journey begins in the area of Piscaycucho or also known as Km82, this path will take us along a four day journey through different ecological floors unique and full of a great variety of nature and animal, crossing small towns and settlements, as well as a Pass over the 4000 meters high known as Warmiwañusca (step of the dead woman),  along the road we will visit some archeological centers where our guides will be able to teach us about the history of the Inca empire, and of course about the new wonder Machu Picchu.
The Inca Trail is exceptional and brings together history and nature that offers a special and extraordinary experience for those who venture to travel.
Day 1 CUSCO – WAYLLABAMBA:
We begin our hike, this day will pick you up early from your hotel, after an hour and a half away in our private car, we will stop for a moment to be able to take any snack, then continue another hour to the starting point of the Inca Trail, where we will start our adventure crossing a bridge over the Urubamba River, this first day trek is fairly easy and the road is almost flat, the walking distance is about 11 km along, then we will visit the Archaeological Center of Patallacta. Our camp will be in Wayllabamba and is located below 3000 meters.
Meals Included: (L)(D)
Day 2 WAYLLABAMBA – PACAYMAYO:
After of enjoying an energetic breakfast, begin our walk directly up through a beautiful high andean forest, after two hours this forest disappears to make way for a different kind of ecosystem, this day will allow us to enjoy two different ecosystems after which cross the highest point in the Inca Trail known as the step of the dead woman, at 4200 meters, from where we can see some mountains, after a rest we start our descent to our camp located about 3700 meters in Pacaymayo. This day our walk will be approximately 4 hours of ascent and descent 2.
Meals Included: (B)(L)(D)
Day 3 PACAYMAYO – WIÑAYHUAYNA:
Very early, we start our trek after 45 minutes to visit the archaeological complex of Runkurakay, where our guide will explain about the history of the place, and then continue with the ascent and cross the second step, where we can see the mountains of Vilcabamba, point from which descend to the archaeological complex of Sayacmarka, we will continue our trek to the point known as Puyupatamarka where we stop to have a delicious lunch and enjoy of a great view of the Vilcanota valley and the mountain of Machu Picchu, we will continue down crossing the cloud forest to get to our final camp in Wiñayhuayna, tonight our camp is located about 2 700 meters.
Meals Included: (B)(L)(D)
Day 4 WIÑAYHUAYNA – MACHU PICCHU – CUSCO:
Machu Picchu is reached in our last day, very early we start our trek through the last checkpoint by a beautiful and undulating Inca trail and after 1 and a half minutes of hiking we reach the "Puerta del Sol" or "Inti Punku" in quechua, from where we can see Machu Picchu. Descended the last stretch of Inca Trail to reach the legendary Inca citadel of Machu Picchu, here our guide will explain about the fabulous citadel, in the afternoon we will meet in Aguas Calientes to enjoy a delicious lunch, for then take train back to Ollantaytambo and our private transportation will take to hotel, thus ending this popular and unique adventure on the Inca Trail.
Meals Included: (B)(L)
TOUR INFORMATION
Pre-briefing of trek.
Collection from your hotel in the morning for your trip by private transportation to the starting point of the walk.
English/Spanish speaking professional guide, who knows our treks, our customs and culture.
Chef and kitchen assistant.
Meals as described in itinerary: (B)breakfast (L)lunch (D)dinner, our chef will prepare traditional Peruvian food, with selected quality food, typical of our region and great care of preparation thereof. If you have any restriction or preference let us to know in advance.
Tents Eureka Timberline 4 Seasons. Dining tent, kitchen tent, tables and chairs, utensils.
Biodegradable bathroom tent.
Personal inflatable pad.
Personal Duffle.
Porters who carry the camping equipment, kitchen and food tents passengers and staff team up to 8kg per person.
Boiled water to fill your bottles during the walk, as well as hot water for washing.
Bus down from Machu Picchu to Aguas Calientes.
Entrance to Inca Trail.
Entrance to the citadel of Machu Picchu.
Train back to Cusco, the requested service.
Private transport back to Cusco.
First aid kit and oxygen.
Sleeping bag. Breakfast in first day and dinner in last day. Tips for guide, porters and cookers. Additional porter to carry more personal things.
Original passport.
A light day backpack with personal items and toiletries.
Clothing molting (suitable clothing like warm and fleece clothes for night and light clothes for day, because the weather conditions change along the day).
Personal Medication.
Hiking boots.
Rain jacket or rain poncho.
Trekking poles (optional).
Sunscreen, sunhat & sunglasses.
Deep Insect Repellent.
Water bottles (in general we can fill up with boiled water once a day, so you should carry as much capacity you need for the day.
Energy bars.
Extra money to buy groceries, souvenirs, etc.
Filmadora and / or camera with lots of spare film or memory.
Headlamp or flashlight and extra batteries.