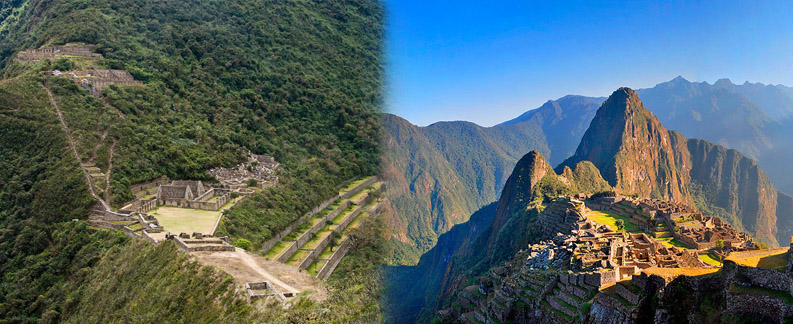 Duracion: 9 Days
Ubicacion: Choquequirao, MachuPicchu
Book Now
It is considered one of the most beautiful treks around to Cusco, also as one of the most difficult, this hike will cross one of the most impressive canyons of Peru "The Apurimac Canyon", visiting the wonderful citadel of Choquequirao enjoying the diversity of ecosystems, ascending and descending big and small valleys through steps of more than 4300 meters above sea level, where we can enjoy many of the peaks of the Vilcabamba Mountain Range like Padreyoc, Choquetacarpo, Pumasillo and others, finally descend to the cloud forest, where we find coffee plantations, avocados and other exotic fruits, to finally reach our final destination the great Inca Citadel "Machu Picchu".
ITINERARY
Day 1 CUSCO – CACHORA – CHIQUISCA:
We will leave early from Cusco. Our private transportation will take us to the small village of Cachora, where our mule drivers and load-bearing mules will be waiting for us. We will walk some six hours, descending into the Apurimac Canyon until we reach Chiquisca at some 1,800 meters above sea level, where we will camp.
Meals includes: (L)(D)
Day 2 CHIQUISCA – MARANPATA – CHOQUEQUIRAO:
After breakfast, we will begin hiking toward the river and then cross the bridge. We will climb for approximately five hours until we reach Maranpata, where we will have lunch. Then we will continue our hike until we reach Choquequirao, which is where we will set up camp for the night. The name "Choquequirao" means "Cradle of Gold." This fortress is considered to be a sister-site to Machupicchu due to its many similarities. For example, both are 1,500 meters above sea level, lie above the Apurimac River, and were an administrative and religious center. Choquequirao covers more than eight hectares, and only one third of it had been explored. These days, archeologists discover interesting things every day through their research.
Meals includes: (B)(L)(D)
Day 3 CHOQUEQUIRAO – PINCHAUNUYUC:
On this morning, we will begin our tour of the Choquequirao Archeological Site. Around noon, we will leave Choquequirao to continue our hike toward the Pinchaunuyuc terraces, whose name means "Where the Water Jumps." These terraces have some unusual ritual fountains, and we will camp alongside them.
Meals includes: (B)(L)(D)
Day 4 PINCHAUNUYUC – MAIZAL:
We will continue toward the Blanco River, where we can bathe in the crystalline river water. Then we will begin our ascent toward the place known as Maizal to have lunch and rest in the afternoon. We will camp there that night.
Meals includes: (B)(L)(D)
Day 5 MAIZAL – YANAMA:
We will hike around snow-capped Corihuarachina, which is an important site of archeological discovery, such as that of the Incan canals. Then we will hike through the Minas Victoria mountain pass where, in the time of Columbus, the Spaniards extracted gold. We will continue toward the spectacular Yanama Valley under the shadow of snow-capped Pumasillo, where we will camp.
Meals includes: (B)(L)(D)
Day 6 YANAMA – TOTORA:
After a good breakfast, we will begin hiking and find ourselves surrounded by the beautiful Vilcabamba Mountain Range as we climb toward the Yanama mountain pass, which is the highest one on our journey. In the afternoon, we will descend along the river until we reach the small village of Totora, where there is an exquisite sense of tranquility and pure air, surrounded by the Salkantay, Pumasillo and Padreyoc glaciers.
Meals includes: (B)(L)(D)
Day 7 TOTORA – SAHUAYACO:
We will take off early, following the Totora River. Then we will enter a humid, tropical forest, passing through the village of LLuscamayo until we reach Colcapampa, which is known for its hot springs. Then the route continues along the left bank of the Santa Teresa River. We will see plantations of passion fruit, cocoa beans, coffee beans, bananas, and more. We will set up camp once we arrive in the village of Sahuayaco. Meals includes: (B)(L)(D)
Day 8 SAHUAYACO – HIDROELÉCTRICA – AGUAS CALIENTES:
On this morning, we will follow the path of the Santa Teresa River, which we will have to cross before climbing through the humid forest to the Llactapata mountain pass. Then we will descend toward the Llactapata Archeological Site, which offers an outstanding view of Machupicchu. After a short rest, we will continue our decent toward the Hidroeléctrica Train Station, where we will board the train that will take us to the town of Aguas Calientes.
Meals includes: (B)(L)
Day 9 AGUAS CALIENTES – MACHUPICCHU – CUSCO:
Very early in the morning, we will board a bus that will take us to the Machupicchu Sanctuary. There we will have a guided tour of approximately two hours in this great world wonder. Then we will return to the town of Aguas Calientes. In the afternoon, we will return to Cusco by train.
Meals includes: (B)(L)
TOUR INFORMATION
Pre briefing before the trek.
Pick up from your hotel in the morning of trek departure by private transportation.
English/Spanish speaking Professional Guide.
Chef and support staff.
Meals as described in itinerary: (B) breakfast (A) lunch (C) dinner, our chef will prepare traditional Peruvian food with selected quality food, typical of our region and great care in preparation. If you have any special preference, let us to know in advance.
Tents Eureka Timberline 4 Seasons.
Camping Equipment: Dining tent, kitchen tent, tables and chairs, utensils.
Biodegradable bathroom tent.
Personal inflatable Mattress Thermarest.
Personal Duffle. Horsemen who will lead the horses and movement of equipment and all stuff.
Horses and/or mules to carry the camping equipment, kitchen equipment and dining, backpacks, sleeping bags and mattresses.
An emergency horse, which can be ridden if you are feeling ill or feels a little slower.
Entrance fee to Choquequirao.
Hotel in Aguas Calientes.
Entrance fee to Machupicchu.
Bus ticket: Aguas Calientes – Machu Picchu – Aguas Calientes.
Train ticket from Machupicchu to Cusco.
First aid kit and oxygen
Sleeping bag.
Breakfast on the first morning.
Dinner on day 8.
Tips for horsemen, cook, and guide.
An additional horse for passenger's luggage.
Huayna Picchu Entry ( Is $15 extra, If you want to do it, has be booked in advance)

Original passport.
A light day backpack with personal items and toiletries.
Clothing molting (suitable clothing like warm and fleece clothes for night and light clothes for day, because the weather conditions change along the day).
Personal Medication.
Hiking boots.
Rain jacket or rain poncho.
Sleeping bag.
Trekking poles (optional).
Sunscreen, sunhat & sunglasses.
Deep Insect Repellent.
Water bottles (in general we can fill up with boiled water once a day, so you should carry as much capacity you need for the day.
Energy bars.
Extra money to buy groceries, souvenirs, etc.
Filmadora and / or camera with lots of spare film or memory.
Headlamp or flashlight and extra batteries.