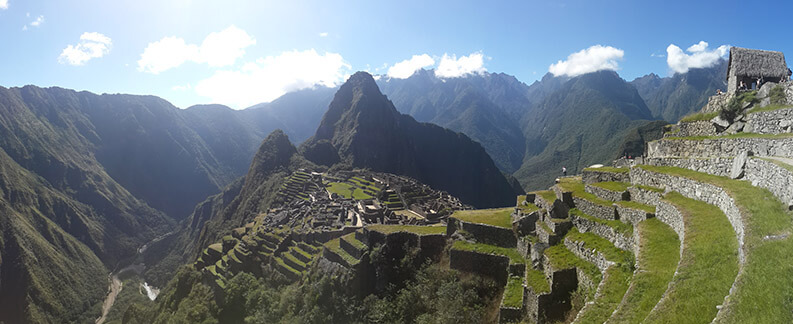 Duracion: 2 Days
Ubicacion: Machu Picchu
Book Now
Machu Picchu 2 Days / 1 Night, Inca citadel is located in an area of cloud forest which makes its beauty and story more mystical, a place filled with magic and architecture unique biodiversity in the world, you can take a step back in time and make you feel like we were in time of the Inca Empire. One of the 7 wonders of the world, a mythical citadel, discovered by explorer Hiram Bingham in 1911.
ITINERARY
Day 1:
So you're going to have a fantastic day in one of the most wonderful place in world: The Inca Citadel of Machu Picchu, start leaving Cusco very early heading to Aguas Calientes, after a train ride in which you will see the striking scenery of the Sacred Valley, we will board a bus for a short ride up to Machu Picchu to start a full guided for about 2.5 hours to bring you all the history that surrounds this mysterious and magic place, for later you can have free time to explore and enjoy the breathtaking Inca city. In the afternoon, you can descend to Aguas Calientes for lunch and later board the train from Aguas Calientes to return to Cusco (Cuzco) where you be taken to your hotel.
DAY 2 :
At the scheduled time, you will be driven to the airport for your flight to your next destination.
TOUR INFORMATION
Transfer to and from airport to hotel.
Transfer to and from hotel to Train Station.
Professional English speaking Tour Guide.
Private Transportation.
RT Train ticket from Poroy/Ollantaytambo to Aguas Calientes.
RT bus tickets from Aguas Calientes – Machu Picchu Entrance fee to Machu Picchu. Lunch in Aguas Calientes.
01 Night in Hotel in Cusco.
Meals and snacks.
Entrance fee to Huayna Picchu.