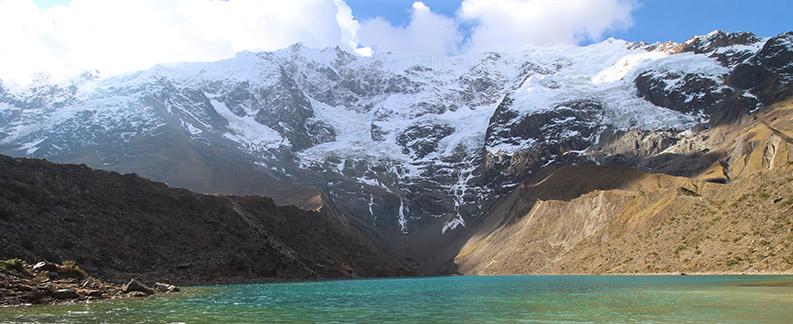 Duracion: 5 Days
Ubicacion: Salkantay, MachuPicchu
Book Now
Salkantay, the highest peak of the mountain range, is located at the eastern end of the chain and rises to 6,271 meters. The name Salkantay means "Wild Mountain", which may refer to the clouds that rise from the lowlands of the jungle. The mountain acts as a center of the valleys that extend around it and cross the roads of their path. The tour Salkantay Trek to Machupicchu is widely accepted by visitors because it's an alternative and unique trek to enjoy and experience.
OVERVIEW
Salkantay is an alternative hike that offers us a great variety of ecosystems, we dare to say that very few treks do it, reason why it offers the great biodiversity and a different experience, it allows to feel the majesty of the Andes in each step. A variety of birds like the "caras caras" of the mountains, eagles, hummingbirds, depending on the season, appreciate lagoons that descend from the same glacier;  surpass the 4600 meters in the highest point with the sensation of being near the sky and of being able to appreciate the majestic of the creation, we will immerse ourselves in valleys full of vegetation to pass through a cloud forest, going through the plantations of coffee, granadilla, bananas, yuccas and some other wild products, so finally after several days of trek we gonna reach our great final destination Machu Picchu.
ITINERARY
Day 1 CUSCO –SALKANTAYPAMPA:
We will start our adventure trek leaving Cusco very early in our private vehicle, along the way; we can appreciate spectacular views of small towns. From here our private car will ascend to Challacancha for about 1 hour where we will start to hike, it's about two hours hiking to Soraypampa where we will have lunch while enjoying views of the mountain peak of Huamantay. After lunch we will continue with a hike uphill for 1.5 to 2 hours to our first campsite at Salkantaypampa.
Meals Included: (L)(D)
Day 2 SALKANTAYPAMPA – CHAULLAY:
After a healthy breakfast, we will go up to Paso de Salkantay (4,600 meters above sea level). Then we will begin our descent to camp. Around noon, we will have lunch in Huyracmachay and then continue our hike downhill towards a high Andean Forest which offers abrupt and fascinating changes of ecosystems. We reach after campsite at Chaullay, a meeting point of the three rivers: Salkantay, Abuela and Totora after 3 hours of hiking. Along the route we will see several Andean bird species, such as condors, falcons, eagles, cara caras, andean gulls, geese, and others, you can also see some andean camelids, such as llamas and alpacas.
Meals Included: (B)(L)(D)
Day 3 CHAULLAY – LA PLAYA:
On the third day, we will walk downhill along a path that follows the mountain, where we will encounter different types of vegetation as we pass through a mystical cloud forest and enter the Valley of Santa Teresa. We will go deep into the Santa Teresa Valley passing along the way a beautiful crystalline waterfall. As we continue our descent towards our camp in La Playa (2,100 meters above sea level), we will see some charming coffee plantations and different fruit plants that are typical for the region. This part of the trek offers a special combination of high Andean forest and cloud forest, making this area a very unique climate and ecosystem. After approximately 6 or 7 hours of walking we arrive at our campsite known as "the Beach" or Sahuayaco.
Meals Included: (B)(L)(D)
Day 4 LA PLAYA – HIDROELÉCTRICA – AGUAS CALIENTES:
We will begin our hike toward Villa de Lucmapampa along an original cobblestone Inca Trail. Along the route, you will see coffee plantations as well as passion fruit, bananas, avocados, and coca leaf plantings. Our first stop is at the Llactapata Archeological Site (2,700 meters above sea level), which is mostly covered by trees. Here you can see how the tree roots have grown into the original Incan walls and it will give you an idea of how the site was when explorers first found it. From here, you will enjoy a great view of Machu Picchu and the Urubamba Canyon. Leaving Llactapata we will descend to the Hidroeléctrica – a small electrical plant (1,900 meters above sea level), where we will take the train to the small town of Aguas Calientes (2,000 meters above sea level). Here we will spend the night in a hotel, and rest for next day.
Meals Included: (B)(L)
Day 5 MACHU PICCHU – CUSCO:
After spending a pleasant night in the small town of Aguas Calientes, we will head to the bus station very early in the morning for a short ride up to Machu Picchu. You will begin the tour with a professional guide for the first two hours. Then you will have free time to explore other parts of Machu Picchu. In the afternoon, we will take the train from the small town of Aguas Calientes toward the city of Cusco where you be taken to your hotel.
Meals Included: (B)(L)
TOUR INFORMATION
Pre briefing before the trek.
Pick up from your hotel in the morning of trek departure by private transportation.
English/Spanish speaking professional guide.
Chef and support staff. Meals as described in itinerary: (B) breakfast (A) lunch (C) dinner, our chef will prepare traditional Peruvian food with selected quality food, typical of our region and great care in preparation. If you have any special preference, let us to know in advance.
Tents Eureka Timberline 4 Seasons.
Dining tent, kitchen tent, tables and chairs, utensils.
Biodegradable bathroom tent.
Personal inflatable Mattress Thermarest.
Personal Duffle. Horsemen who will lead the horses and movement of equipment.
Horses and/or mules to carry the camping equipment, kitchen equipment and dining, backpacks, sleeping bags and mattresses.
An emergency horse, which can be ridden if you are feeling ill or feels a little slower.
Hotel in Aguas Calientes.
Bus up and down to Aguas Calientes Machupicchu and vice versa.
Entrance to the citadel of Machu Picchu.
Lunch on 5th day. Train ticket from Aguas Calientes to Cusco.
Private transport back to Cusco.
First aid kit and oxygen.

Breakfast 1st day.
Dinner 4th day.
Tips for Horsemen, cook and guide.
An additional horse if you need to carry more stuff.
Sleeping bag.
Huayna Picchu Entry (is $15 extra, if you want to do it, has been booked in advance).
Original passport.
A light day backpack with personal items and toiletries.
Clothing molting (suitable clothing like warm and fleece clothes for night and light clothes for day, because the weather conditions change along the day).
Personal Medication.
Hiking boots.
Rain jacket or rain poncho.
Sleeping bag.
Trekking poles (optional).
Sunscreen, sunhat & sunglasses.
Deep Insect Repellent.
Water bottles (in general we can fill up with boiled water once a day, so you should carry as much capacity you need for the day.
Energy bars.
Extra money to buy groceries, souvenirs, etc.
Filmadora and / or camera with lots of spare film or memory.
Headlamp or flashlight and extra batteries.