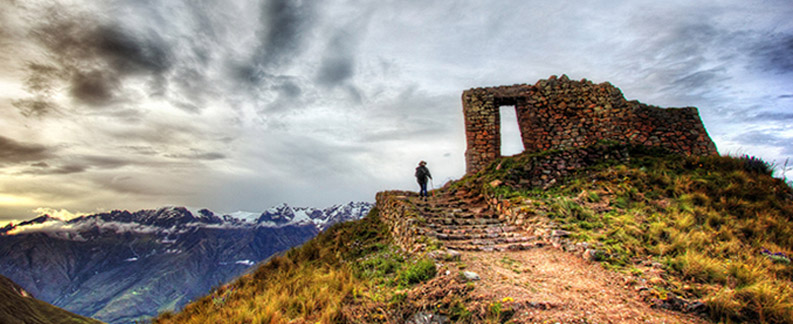 Duracion: 4 Days
Ubicacion: Cachicata, Ollantaytambo, Sacred Valley, Urubamba
Book Now
ITINERARY
Day 1
We will pick you up from your hotel very early and then go to Tarpiso Bridge, approximately one hour and thirty minutes, this is the place where horsemen will wait us and after an introduction to the area, we start our Inca trek, climbing about three hours to the center Inca archaeological "Huata" located 3800 meters above sea level, after lunch explore the archaeological center at the top of the mountain and then begin the descent of an hour to our camp in the small town of Anapahua.
Day 2
After breakfast, we start our trek along the mountain by a gentle ascent for about two hours until the next town called "Sojma", then a short break we start our ascent to the beautiful waterfall "Perolnioc", from where we will continue our walk to the archaeological site of the same name, located at the top of the waterfall (3, 680 m.a.s.l.), from where we can see part of the Sacred Valley of the Incas, a little above rest for have a delicious lunch, then continue our adventure trek to the camp site for one hour more.
Day 3
Begin this day, leaving our camp site, beginning with a climb to the Pass of Charcahuaylla (time is approximately 3 hours 30 minutes). After a small decline, we will enjoy a delicious lunch for then go around the mountain for another hour and enjoy a splendid view of the Sacred Valley. Then, we'll start our descent to our camp along a small Inca archaeological Site known as Choquetacarpo. Descent along the pass by a beautiful viewpoint from where we can see much of the Sacred Valley of the Incas as the beautiful mountains of Veronica, Huacayhuillca, Pumasillo, Chicón and other peaks.
Day 4:
Only about 30 minutes by bus, we will explore the most famous Inca quarry trail (Inca quarry) called "Cachicata Quarries", a very important place in the Inca Empire. We may also see some Inca tomb, and continue our descent to the town of Ollantaytambo; approximate walking time is four hours, after lunch beside the Inca Bridge with a beautiful view of the Urubamba River, we board the transport back to Cusco (Cuzco).
TOUR INFORMATION
Professional English/Spanish Speaking guide.Private transportation,Camping Equipment.Cook/Muleteer.Horses and Mules to carry our equipment.